Tours & Safaris in the South of Africa
We are eager to assist you in planning your holiday / tour through South Africa – a world in one country.
South Africa offers breathtaking scenery which includes the thundering Atlantic and Indian oceans, wild coasts, unspoiled beaches, beautiful mountain ranges up to 3000 m high as well as solitary deserts, exciting game viewing in private and South African national parks, lively cities and various cultures which form our Rainbow Nation. In short – a whole variety that contributes to an unforgettable experience for everybody.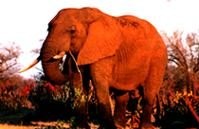 South Africa gives you a wide range of activities to choose from: white-water rafting, ballooning, snorkeling, hiking, horseback safaris, walking safaris in game reserves, beach holidays, travelling in the most luxurious steam train in the world – "Rovos Rail" or the well known luxury "Blue Train". May be you just want to relax in one of the Casino Resorts.
We cater for the individual traveller regarding fly-in safaris, tailor-made guided or self-drive tours in South Africa as well as the neighbouring countries of Namibia, Botswana, Zimbabwe, Swaziland, Lesotho and Mozambique.
Enquire about our guided tours through South Africa (21 or 15 days) and Namibia (17 days) which we offer in English and German. The tours, which cater for a minimum of 2 and a maximum of 7 passengers, are conducted in air-conditioned vehicles. Our local, multi-lingual guides are well-trained and experienced.
We also quote for incentive groups and guided tours for larger groups in 20 to 44-seater luxury coaches. No group is too small – no group is too large.
Kindly contact us for a free quotation. We speak German and English.